Educational Field Adventures – One Friday a Month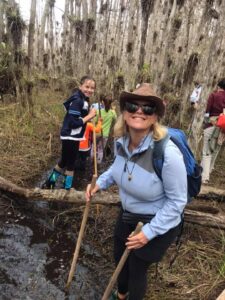 Day-long educational field adventures in the outdoor classroom…at least once a month. Learn about the unique and exciting ecology of South Florida during this one-of-a-kind environmental education program.  Join us as we seek out the wilds of South Florida – swamp walks, coastal explorations, forest hikes and more!  Get outside with your family and take a trip a bit further away for the day to learn about natural and wild Florida.  Learn the natural and cultural history of our beautiful state and get to know where you live.
This program is geared to homeschool families and the participants in our educational programs,  but all life-learners are welcome.  Experiential learning at its best.
NURTURE your SENSE of PLACE!
ECO – EVERY CHILD OUTSIDE! Wet feet, dirty hands, full heart! 
Get to know the Real and Natural Florida!   
For the whole family!  
Nature Study, Exploration and Experience

Nature Walk & Talk, Games & Activities

Once a month, Fridays 10am-2pm
Educational Field Program – $55- $65 per family

Additional fees may apply (boat fees, special events)
Before registering, please read, understand and agree to the Particulars/Terms & Conditions listed below the dates and locations.
Dates & Locations
Friday, October 18, 2019, 10am-2pm
Blowing Rocks and Shallow Lagoons…a Day Trip to Jupiter!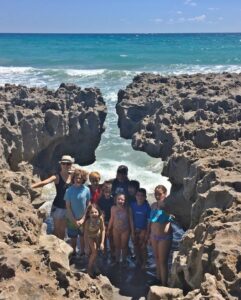 Discover the unique and rare beauty of the jutting Anastasia Limestone rock formations on the  beach, explore the shallows of the lagoons and search for critters…crabs, jellies, fishes, birds and MORE.  Rocket to Jupiter to experience Blowing Rock's Preserve and nearby Dubois Lagoon!  A sense of fun and play are needed for this day-trip to Jupiter…get ready to hike, climb, swim, and net. Water shoes and swim clothes are needed. 
Friday, November 15, 2019, 10am-2pm
Grassy Waters…a Day Trip to the Freshwater Wetlands!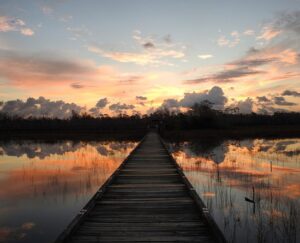 Enjoy the scenery as you look for wading birds, hawks, snakes, alligators, turtles, frogs, and possibly larger mammals. Hike the trails – dry or maybe very wet – through the pristine cypress domes of this natural oasis in the midst of suburban sprawl.  Discover real and natural South Florida. All day trip to Palm Beach County –  a sense of adventure and a love of walking (with the possibility of getting your feet wet) required.
Friday, December 13, 2019, 10am-2pm
Hammocks and Streams…a Day Trip beside the River!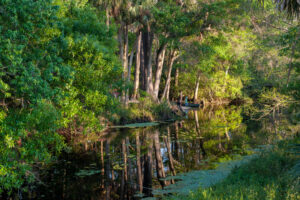 Travel to the wild and scenic Loxahatchee River, walk along the peaceful, winding trails that run adjacent to the peaceful, winding river.  Join us for a tranquil day learning about Florida's wild past. Be rejuvenated by the calming scenery as you practice shinrinyoku, or "Forest Bathing" while hiking in the shade of tall oaks, wild cypress and scrubby pines.    Use your senses as you search for wildlife – birds, deer, alligators and more!  Family adventure to two natural areas of Palm Beach County – a sense of discovery and desire to seek the beautiful is necessary for this trip.  Be prepared to relax, dip your toes in the river, explore off trail and enjoy Mother Nature.
*Friday, December 20, 2019 5:30pm-8pm
Light up the Night…Winter Solstice Celebration at the sea!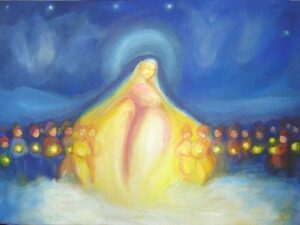 The Nature Seekers are gathering to welcome in the change of seasons. Changes are subtle here in Florida….the oceans are cooler, the birds are migrating, the nights longer, and the air dry. Join us in Dania Beach as we light up the night with a shoreline lantern walk and solstice celebration. Festivities will include a warm and cozy story, an active night time game on the beach, a light the night walk and moonlight meditation. 
*Special Event and Cost
Friday, January 17, 2020, 10am-2pm
Cypress Strands and Wet Prairies….a Day Trip to Fakahatchee Strand – Western Everglades!
Step into the heart of the Everglades…immerse yourself in the beauty and tranquility of this ancient place. Discover the ever-changing wet prairie and the mysterious canopy of the Fakahatchee Strand during this daytime adventure to the lush freshwater wetlands of the Western Everglades.
This strand of cypress trees and water is the only place in the world where bald cypress trees and royal palms share the orchid-laden forest canopy. It is a haven for wildlife, Florida panthers still pursue white-tailed deer from the uplands across the wetlands. Florida black bears and Eastern indigo snakes, Everglades minks and diamondback terrapins can still be found here and the resident and migratory bird life is spectacular! Discover the wonders of this cypress strand…
All day trip to the Western Everglades area Highway 29, on the way to Naples – a sense of wonder and adventure is encouraged for this fabulous trip into the swamp…wet feet are possible and likely!
Friday, February 21, 2020, 10am-2pm
Sugar Sand and Pine Forests…a Day Trip to the Mountain!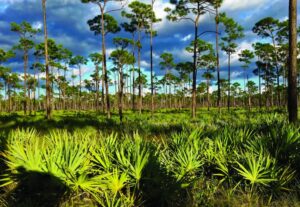 Jonathan Dickinson State Park is just an hour north of Fort Lauderdale and is made up of acres of scrubland, pine and oak forest, and cypress wetlands.  The park is home to bobcats, panthers, deer, wild pigs and more. Check out the view after you climb to the highest natural point in South Florida – Hobe Mountain!  Walk the sugar sand hills, hike along the meandering Loxahatchee River and tromp through the Pine-lands as we search for signs of life and enjoy the natural beauty of south Florida.  Spend the day in Jupiter – a sense of wonder and adventure is encouraged for this fabulous trip…get ready to Take a Hike!
Friday, March 20, 2020, 10am-2pm
 Flowing Rivers and Mangrove Islands…a Day Trip to Everglades City!
Spend the day traveling west and south to Everglades City… flow with the freshwater as it wanders from the swamps of Big Cypress and Fakahatchee Strand down into the southlands to meet with the Gulf of Mexico. Travel west and south to a place at the edge of Florida, a hidden place full of lore and beauty, a place set back in time in so many ways.  Learn about alligator holes and ghost orchids,  stone crabs and blue crabs, mosquitoes and smugglers, and survival in a harsh, but beautiful land. 
All day trip to the Everglades City area – on the way to Naples…stamina for an all day road trip and a sense of wonder and adventure is required!
Friday, April 17, 2020, 10am-2pm
Sea-Grass and Sea-Glass…a Day Trip to the Islands – Virginia Key!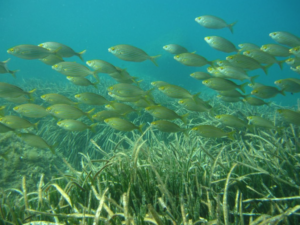 Dip your net in the shallow salty waters of the seagrass beds along Virginia Key.  See what you can see hiding beneath the surface, tucked away in the seagrass. Bring up crabs, sea urchins, sponges, fish, shrimp, and more with your hand nets as you wade through the crystal clear waters. Begin with a lively hike in the Tropical Hardwood Maritime Hammock, followed by a search for sea-glass and marine-life, ending with seagrass netting and snorkeling.  Travel south to Miami, over the causeway to the islands to explore and seek along the shore.  Bring your water shoes, goggles, swim clothes and sense of fun as you experience Urban Nature along the shores of Biscayne Bay and the Atlantic Ocean.
*Friday, May 15, 2020, 10am-2pm
Islands and Estuaries…a Day Trip across the Lagoon!

From Riviera Beach, hop on board the shuttle boat to Peanut Island.  Adventure over the water to discover the beauty of this tiny tropical island. Travel back in time as you walk the trails of this unique 80 acre park…explore historic bunkers and learn about the island's vibrant and colorful history. The crystal clear water of the estuary is a great place to discover the bounty of South Florida marine-life.  Grab your masks and snorkels…don't forget your nets…see what you can discover along the sandy bottom – crabs, conchs, sea stars and fishes may be hiding just below the surface.  Get ready for adventure! Bring your water shoes, goggles and swim clothes as you climb aboard to experience Lake Worth Lagoon in Palm Beach.
*This field trip has an added fee – per person for boat ride
Before registering, please read, understand and agree to the Particulars/Terms & Conditions below…
Nature Family Field Trip Particulars/Terms & Conditions

Nature Family Field Trips are participated in at the discretion of the family, it is important you are informed of activity and are aware of environment and decide to attend at your own jurisdiction and do not hold Take Root, Inc, Nature Seekers or The Nature Teacher liable for anything that occurs during the Field Trip.  Waivers must be completed for each trip separately.  While participating in activities, adults are responsible for and in charge of their own children.
These trips require advance registration and payment.
"Family" cost includes program and materials and is based on a family with one child or more.  When there is more than one child, children under age four are free of charge. If the only child is under four, they are part of the program fee.
Entrance fees and parking fees are NOT included in program cost.
Transportation is not included.
There will be no changes or refunds within two weeks of  trip.  Credits will be considered only for particular circumstances.  There are no refunds for not attending.
Rain or shine in most cases.  Severe weather and circumstances may cause trip to be postponed or canceled for a credit or a refund.
Your support and dedication are very appreciated in order to continue providing unique and enriching nature experiences. Go ECO – Every Child Outside!
SaveSave
SaveSave