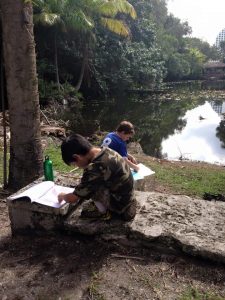 Nature Education, Exploration and Play are vital to the well-being of our children and society as a whole.  Being outdoors surrounded by nature lowers our heart rates, alleviates stress, and offers opportunities for better physical health.
Free-play…outdoors, in a group, teaches problem-solving, team-work and conflict resolution.  Learning about our environment teaches us understanding, respect and tolerance.  Through outdoor learning and play we gain a Sense of Place and understand our natural role in the world, as well as our relationship to all organisms around us.
Life-learners, homeschoolers, schoolers, unschoolers...enhance your lives, your studies, your curriculum…we provide quality, experiential education – integrating nature studies, science, fine-arts, and recreation to create a well-rounded holistic nature program for your learners.
Nature Seekers, The Nature Teacher and Treehouse Learning strive to create a healthy and happy outdoor classroom – one where students of all ages can be themselves and settle into their natural world with love and wonder.
If you are seeking this in your life and in the life of your children, consider registering for our programs and get your kids outside!
Choose one or more of our Nature Seeker Days for the home-school year, and Nature Seeker Weeks for summer break.
Homeschool Seekers – weekly drop-off program for seekers age 5-12, 10am-2:30pm – Ft. Lauderdale, Davie, Hollywood, & N. Miami
Summer Seekers – week long sessions – drop-off summer program for seekers age 5-12, M-F 9am-3pm – TBA