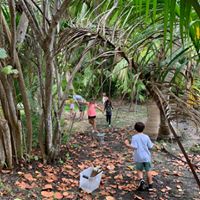 Take Root Education Presents…
Forest Play Camp – Summer Break 2021 – June
Every Child Outside! UNPLUG! Take Root Education's FOREST PLAY CAMP gives each child an opportunity to PLAY, EXPLORE & ENJOY NATURE.  Each day campers climb, play, and run…being as wild and free as children can be! 
Nature Campers will roam the forest to uncover hidden nooks, find uncharted "lands", build stick forts and villages, and daydream in their favorite hideaways. The forest will also inspire – providing the campers with time to create and make art, learn about the world around them and discover the wonders of nature.
THE LAND BEFORE TIME! This summer campers will take a magical journey through time and space…to find themselves stepping into the past, walking alongside the beasts of the wild and ancient forests of Florida. Summer days will be full of discovery and imagination as campers search for creatures of both present and past hidden in the jungles of the forest, at the shore of the sea and tucked away in the beautiful gardens of the Bonnet House!
FILL OUT THE FORM BELOW TO SAVE YOUR WEEKS FOR SPRING AND/OR SUMMER NATURE PLAY CAMP. You will receive an invoice for payment once you register using the form.
Summer Forest Play Camp

Ft. Lauderdale
Bonnet House
9:30am-3pm
Options for Ages 4+
Five Weeks of Camp
Choose 3 or 5 Day Week
June 7- July 9, 2021

3 Day Week


T, W, Tr ONLY
Ages 4-12
$200 – 1 Three Day Week
*15% Discount per 2 Week Package
*5% Sibling Discount


5 Day Week


Monday-Friday
Ages 5-12
$300 – 1 Five Day Week
*15% Discount per 2 Week Package
*5% Sibling Discount

*Covid-19 Guidelines followed.
Call or email for more details – (786) 490-6660,
natureseekersfl@gmail.com