Treehouse Learning – Full-time in Dade at Greynolds Park *NOW AVAILABLE PART-TIME IN BROWARD AT THE BONNET HOUSE!
Academics for Homeschoolers – In the Outdoor Classroom
| | | |
| --- | --- | --- |
| The Treehouse Learning MicroSchool Program provides safe, wholesome, and natural environments that inspire children using holistic and well-balanced curriculum. | Young minds are inspired with creative activities, teachers, artists and mentors. Learning is made fun through unique and individualized hands-on experiences. | Each child is encouraged and inspired creatively, allowing them to naturally progress without limitations or boundaries. |
NATURE MICROSCHOOL – TREEHOUSE LEARNING
HEAD, HEART & HANDS!
NATURE SCHOOL = NATURE EXPLORATION + LEARNING FUN!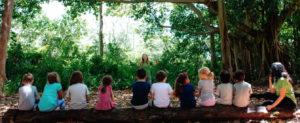 Treehouse Learning uses a creative, holistic, earth-based method of learning – inspired by pedagogies such as Waldorf & Montessori. This unique MicroSchool program provides the best of all worlds – Academic Enrichment and Outdoor Experience. Part-time options now available in Broward County.
Treehouse Learning – Dade – N. Miami – Greynolds Park
Monday-Friday at Greynolds Park in N. Miami, options for ages 4-10+
Treehouse Learning – Broward – Ft. Lauderdale – Bonnet House
Tuesday and/or Friday at the Bonnet House in Ft. Lauderdale, options for ages 4-10+
*Program varies based on location, follow links above for more details.
Please read our Covid-19 Guidelines and Adaptations. Learning will take place in our outdoor classrooms. There will be small groups of no more than 8 kids and their teacher/guide. All groups will be adequately supervised and will follow safety guidelines and protocol. All staff are screened and trained. All locations are protected and beautiful.