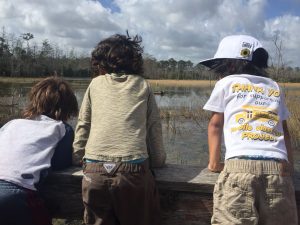 Homeschool Seekers is a nature enrichment program that happens one or more day a week, just for the kids, age 5-12.
Choose one day or more:
Tuesdays – Carpenter House in Hollywood Beach or Greynolds Park
Wednesdays & Thursdays – Bonnet House in Fort Lauderdale
Fridays – out and about…Field Adventures and Workshop Days!
Your child can SEEK all week long and always do something different!
Each location's day will vary due to differences in group dynamics, ecosystems and focus of study.  The core values of exploration, play and discovery will be consistent at each location and each day.  All Nature Seekers' Days will include journals, arts and crafts, and a plethora of experiential activities and games. Team-building, cooperation and stewardship will be central themes woven throughout. Groups will be limited to under 20 kids and adequately supervised with 2 or more adults. All staff are screened and trained. All locations are well protected and beautiful. (see below for more details)
Fridays offer the opportunity for FIELD DAYS and ADVENTURES!  The Nature Teacher offers a monthly field trip to a nature destination in South Florida for the whole family – finding a Sense of Place.  Treehouse Learning will be holding workshops, classes and volunteer options – building community!
2018/19 Ecological Theme for all Nature Seeker Programs – BEAUTIFUL BOTANY!
Seeking will happen from 10am to 2:30pm at each location. Sign up for as many days as you'd like!
Seasonal Series – Autumn, Winter, Spring (Summer Seekers will happen in June & July).

Program cost is based on one student and enrollment in one weekly location.  Registration is per season. $510/first child/per session, 25% sibling discount.