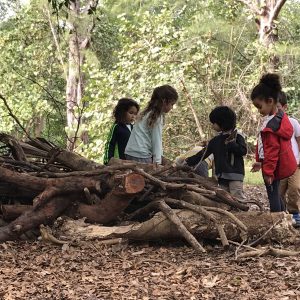 During Summer Break 2019, Summer Seekers will provide your imaginative 5-12 year old children with an empty palette, ready to be filled with the colors of story, play, and discovery.
Each week, campers will hike and explore the forest, where they will build pirate ships and fairy castles, survive the Florida wilds – hide, seek and find. Campers will explore the shoreline, search for buried treasure, build castles in the sand, paddle the seas, search, collect, and create. They will run, climb and play, and play some more!
The Nature Seekers Program provides a safe and nourishing outdoor environment in which your children's imaginations will thrive.  With play comes learning, and with learning comes respect and stewardship.
Every week of camp will include a field trip to other natural playgrounds – to explore the secret seagrass gardens, to visit the sea turtles, to seek nature and adventure above and below the surface.
All week long campers will experience the natural beauty of Florida  through immersion, stories, games, nature crafts, experiential learning, and PLAY!
Forest Days
Explore the Shore Days
Field Trip Adventure Days
Stay tuned to what the Nature Seekers are doing…space will be limited in this very popular and enriching program.