Guidelines for Programs During the Covid-19 Pandemic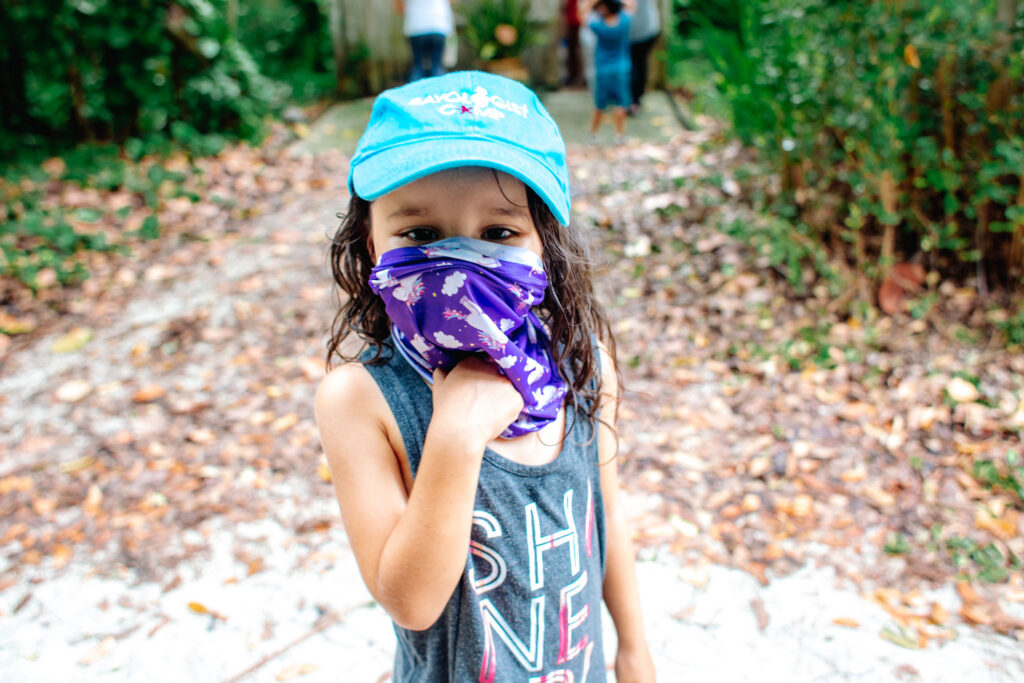 The well-being of our students, their families, and our staff are of UTMOST importance and a top priority. We employ the highest standards regarding education as well as health and safety, creating a mindful and cautious plan to limit risk during the Covid-19 Pandemic.
So we can continue to play and learn – OUTSIDE – we must follow the guidelines and mandates of the beautiful natural areas and parks in which we play and learn. Our plan also reflects the guidelines and recommendations of the CDC and the American Camp Association.
Please read below how we will continue to provide high quality, holistic, hands on, nature-based learning and play while caring for the community at large. These protocols are here for YOU, each and every one of you, we are CONNECTED!
Think fresh air. Think small outdoor classrooms. Think nature-based education and discovery with Take Root Education.
Learning will take place in our outdoor classrooms. There will be small groups of no more than 8 kids and their teacher/guide. All groups will be adequately supervised and will follow safety guidelines and protocol. All staff are screened and trained. All locations are protected and beautiful.
There will be lots of warm fuzzies, virtual hugs, virtual high fives, hand claps, dancing, waves, jumping, sign language, etc. going on. Games will continue to be played, fun will continue to be had. We will speak and sing quietly, share stories and play. Children will use hula hoops or their sitting mat to help determine personal space to allow for physical distancing when it is needed.
Families…this is a community endeavor, let's work together. We ask that when you plan on attending any Take Root program you responsibly and voluntarily commit to low or no contact while participating. The teachers and staff of Take Root will do the same and will be tested regularly. This will be a team effort – we rely on you – the parents and families – to work with us – with the goal of a safe and healthy experience.
Before attending, ask yourselves these questions: Have you traveled? Have you had visitors from other countries/areas? Have you been in contact with someone who may have or been exposed to the virus? Have you or anyone in immediate contact with you had the following symptoms: fever, loss of sense of smell, unusual cough, unusual chest pain or difficulty breathing? Consider testing, it is now convenient and free. If you answered yes to any of these questions, please contact Emily & Christy personally to discuss.
Symptoms – don't attend.
Exposure – don't attend.
Temperatures will be checked daily.
Children will be sent home if ill.
Sickness: If any staff or program participants are experiencing symptoms, it is required they stay home. Children or staff who exhibit symptoms of illness during the day will be sent home.
Temperature Monitoring: All participants and staff will have their temperatures checked daily with a non-touch thermometer. If over 100.4, the participant or staff member will be sent home or not permitted to attend. Temperature monitoring will take place during the drop-off procedure (see below).
Drop Off/Pick up: During drop-off and pick-up, do not park your vehicles – pull directly up to the designated drop-off area. All adults must wear a face covering when within 10 feet of other people. One Teacher/Nature Guide (masked), will bring a sign-in sheet to the vehicle, after obtaining the participant's temperature, the teacher will assist them with their belongings and guide them to the play area. Another Teacher/Nature Guide will be managing the children in a separate play area. There will be no parking or socializing for parents on the premises. All parents must exit grounds after drop-off/pick up.
The Outdoor Classroom: Take Root programs typically take place outdoors at least 75% of the time, with the remainder of the time in a designated shelter. For upcoming programs this will continue to be true, but with even more time outside while broken into small groups. Unless the weather requires shelter-use, the majority of the day will take place in the fresh air – outdoors. There is plenty of room for physical distancing, running and playing and taking advantage of the outdoor environment to promote health and growth. The outdoor classroom is a healthy and safe option.
Small Groups: Groups of participants (students) will be no more than ten people in size (including teachers). All people will maintain distance when needed and will not share objects unless absolutely necessary (if shared, the objects will be disinfected with soap and water, sanitizer or other appropriate cleaner before and after).
Group Areas: All spaces will be modified to maximize social distancing, including installation of barriers, modification of furniture and layouts, and segmentation of common areas to ensure the separation of groups of not more than 10 individuals.
Physical Distancing: While at any tables or seating areas, distancing and spacing will be implemented using alternate seating. Hula hoops and other fun tools will be used to teach and manage personal space. Games and fun interactive activities will be used. During group activities, distancing will be encouraged. When in close contact, masks will be worn.
Masks/Face Covers: Wearing a face mask has been shown to significantly decrease contagion. As a community we are together – working to keep others as safe as we can, mask wearing is a way we can do our part. In order to hold programs at the parks and natural areas, it is mandatory we adhere to these rules in order to be able to continue our programs and so the parks can stay open. Both Broward and Dade Counties have mandated that anyone over the age of 2 wear a face covering/mask in public – inside or outside and when not able to be physically distant – UNLESS playing, running or participating in active sports, games OR when eating and drinking. People with respiratory distress are not required to wear a mask, but are asked to maintain physical distance.
Mask wearing is prescribed as a a discretionary, cautious, careful, and mindful behavior – for protection of everyone. Wearing masks is like wearing sunscreen. As a community we are devising ways to continue interacting in a healthy and thoughtful way, masks are a way for us to do that. When the children are engaged in active play they will not be required to wear masks. When children are in close contact with others, they will wear their masks. It is the job of our staff to balance the mask wearing, active play and maintain physical distancing in a positive and healthy manner throughout the day. We will do our best to uphold this standard while also considering the heat of the day, the natural tendencies of children and the logistics of the activities.
Supplies: Each child will have their own set of materials and daily supplies, books, etc. There will be no need to share pencils, books etc. Sharing of items between children will be prohibited as much as possible. If items are shared they will be cleaned and disinfected before and between use. Items will be wiped down with disinfectant wipes.
Toys: Children must leave toys and blankets and their comfort items at home to reduce the introduction of new objects. Accommodations will be made for children with disabilities or special needs, but items will be kept separate and cleaned and never shared.
Sit-Upons: Each participant will have their own fabric sit-upon each day of programming. The sit-upon goes home with the child to be washed, the child must keep the sit-upon with their own belongings, they are not to be shared. The sit-upon will be made with a light-colored pillowcase the student brings from home (washed and ready). Children will decorate their case and use it to sit on when we are in the grass or on the ground.
Placemats: Each child will have their own cloth place-mat to use for their food while at the table or on the ground. The place-mat will be stored in the student's belongings while at the program, but will be washed and cleaned at home and brought back for use daily.
Table Coverings: Tables will be disinfected between each use. Tables will be covered with a disposable paper cloth when needed.
Hand-Washing: Disinfecting wipes and hand sanitizer will be on hand at all times to be used for any necessary wipe-downs of face and hands. Teachers will facilitate frequent hand-washing sessions at the bathrooms. Each teacher will have a set of hand-cleaning supplies – paper towels, disinfectant spray and wipes. We will teach proper hand-washing techniques on the first day. Soap and paper towels will be supplied. Families are permitted to send their own special wipes or hand sanitizer in a small labeled bag that children can carry with them throughout the day.
Bathrooms: Small groups will be guided by one teacher to use restrooms. Social distancing will be enforced. Only one child may use the facility at a time. Children waiting to use restrooms will be physically distanced from one another. Children will always have masks with them and will use them when physical distancing is not maintained. Bathrooms will be monitored at all times. Staff will clean and disinfect the facility before/after each individual use.
Disinfection: All indoor areas will be thoroughly disinfected before/after programs – tables, chairs, toys, objects and supplies. The floor will be cleaned daily.
Signage – signage with Covid-19 mandates will be posted in multiple, publicly trafficked locations. Staff and families will be educated on new guidelines in advance. Signs to be included…How To: Minimize the spread of COVID-19; properly wash hands; promote everyday protective measures; and properly wear a face covering. DOH and/or CDC guidelines.
Cleaning Supplies: Alcohol, Soap, Water, Paper Towels, Disinfecting Wipes, Disinfecting Spray (with alcohol and essential oils).
CDC ACA Guidelines: https://www.cdc.gov/coronavirus/2019-ncov/community/schools-childcare/summer-camps.html
Should anyone in the Take Root community (staff or family) contract Covid-19, it is necessary to communicate with us immediately. It is mandatory that the person and their immediate family isolate for the advised time period and until tests show negative.
There is the potential for closure with a switch to online programming IF we feel it is the correct course of action.
There are extra days alotted on the calendar to use as a safety net should we need to close temporarily.
In the event of a closure we will continue programming using the Zoom online/streaming platform, with classes in a similar format and schedule to what we do live and in person.